By dave | November 12, 2016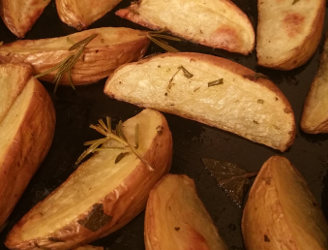 Often when making pizza or even a main course I like to make a side dish of potato wedges. What better side dish than this? It ticks all the boxes: Easy to make, really good value and really tasty. You can vary this recipe to use pretty much any herbs available to taste.
For this recipe to work, it's best to use potatoes that are good for roasting such as Maris Piper, but to be honest I'm not too fussy and have made these wedges with just about every kind of potato imaginable. One common error is to make the wedges too thin; don't do this as it often makes the wedges soggy and full of oil. You want to aim for wedges of about 1cm thickness, these cook well in about fifty minutes to an hour.
To make the oil and herb mix you'll need a motor and pestle. If you haven't got one I strongly recommend buying a good quality one as they are an excelent way to infuse flavours into oils, and help make fantastic salad dressings too. Personally I like the stone ones, and I normally use a marble one.
Ingredients (serves 4)
6 - 8 medium or 4 - 5 large potato
1 or 2 springs of Rosemary
1 or 2 Cloves of garlic, peeled
A good glug of olive oil for the motor and pestle
A few herb leaves if available (oregano, sage, thyme)
A few peper corns
A pinch of salt
Method
Preheat the oven to 180°C fan, 200°C conventional and spread a little oil over a large baking tray.
First we need to get all the ingredients for the oil into the motor and pestle. Start by stripping the leaves from one of the Rosemary sprigs and adding them to the bowl, add a couple of other herb leaves such as Sage, Oregano or Thyme. Then put in a couple of pepper corns or some ground pepper and a little salt. Next add the garlic and a good glug of olive oil, see the photo to the right.
Now we need to mix all those ingredients together, this is done by pounding all the ingredients until everything is mixed together. I find an operation similar to milling quite effective. Put the mixture to one side for later.

Wash the potatoes and slice them into wedges, the wedges need to be about 1 centimetre (just under 1/2 inch) thick. This depends on the size of the potatoes you are using to start with, large baking potatoes would need slightly thinner wedges. Put these into large bowl (see photo). The easiest way to proceed is to half the potato, then keep slicing a wedge off at a time.


Add the oil mixture to the big bowl and then keep moving the wedges around until all the wedges have been coated in the mix, I find the best way is to get your hands underneath the wedges with fingers apart and lift through the wedges. There's no right or wrong here, just make sure it's well mixed.


Spread the wedges out on a baking tray making sure than there is no overlaping wedges. Add the remaining sprig of Rosemary loosely around the baking tray. Put them in the oven for about 50 - 60 minutes. Taking them out once browned and soft inside.